Hair Restoration using PRP Injections
Dr. Andrew Jacono is one of a small group of hair transplant surgeons that is offering platelet rich plasma PRP hair transplant in NYC and Long Island to maximize hair transplant growth. Platelet Rich Plasma is concentrated blood plasma, which contains approximately three to five times the number of platelets found in normal circulating blood. In addition, it contains platelet-derived growth factor (PDGF), vascular endothelial growth factor (VEGF), transforming growth factor (TGF) and other bioactive proteins that aid in wound healing and possibly hair growth.
How is PRP Treatments Used?
There are three main ways that Dr. Jacono uses PRP injections within his hair loss therapies and treatments.
Dr. Jacono performs PRP hair loss injections to the scalp to help prevent further hair loss and restimulate hair growth in dormant hair follicles as a medical therapy for hair loss without surgery. These injections can be repeated every 4 weeks until the desired results are obtained. For those with more extreme hair loss requiring a hair transplant, he also uses PRP during hair transplant, when performing either Neograft Hair Transplant or traditional strip hair transplant surgery as an adjunct to help hair follicle graft that are transplanted grow.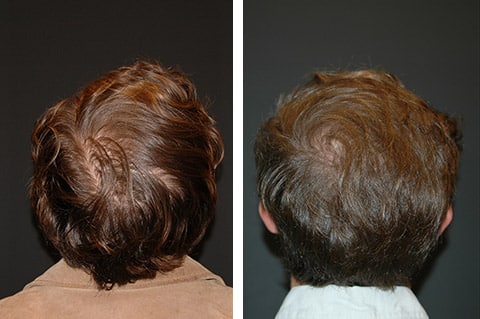 During hair transplantation, Dr. Jacono uses the PRP to soak the hair transplant grafts prior to placement and sprays it on the recipient site area, to stimulate the healing of the transplanted grafts. He also will inject it into the donor area to facilitate healing of the donor incision and minimize scar formation. He also offers injections of PRP after the hair transplant is healed before they start growing to accelerate take and the appearance of growing hair. These treatments are usually repeated 3 to 5 times every month, starting the month after hair transplant.
Hair follicles that have been harvested.
Hair follicles getting soaked in PRP.
---
PRP is used in many areas of medicine, including the acceleration of healing of tendon injuries, the treatment of osteoarthritis, in some aspects of dental work (i.e. jaw reconstruction), and in cardiovascular medicine. The concentrated form of plasma has been shown to accelerate wound healing and tissue repair.
Dr. Jacono also uses the PRP injections in conjunction with both Neograft hair transplantations and standard strip hair transplant surgeries. The PRP is injected into the scalp where the new hair grafts are being located to help encourage the tissue to heal faster with less scar damage. This helps to improve the percentage of the transplanted hair follicles to grow faster and with thicker density.
Another way that Dr. Jacono uses PRP injections is by adding ACell® to the PRP serum and injecting into the treatment area as a standalone procedure or in conjunction with a hair transplant procedure as well.
Contact us today to schedule a consultation with Dr. Andrew Jacono of New York Hair Transplantation.